02 May

Xtreme Enduro Dirt Bike Tours Pattaya Thailand is Once Again Happy to Introduce a new Addition to its Fleet. The 2016 Husqvarna 250FC

Xtreme Enduro Dirt Bike Tours Pattaya Thailand  is Once Again Happy to Introduce a new Addition to its Fleet.

Xtreme Enduro Dirt Bike Tours is please to introduce our new off road bike the Husqvarna 300TE.

With years of experience in designing the most advanced steel frames in offroad, the engineers in Research and Development have designed a completely new chromium molibdenum steel frame that redefines every structural aspect in order to improve handling, ergonomics and packaging. The torsional rigidity and longitudinal stiffness have been completely rethought. The 6 mm wider and  2 mm lower steel tubes offer 20 % more torsional rigidity and 30 % less longitudinal stiffness compared to the previous generation frame design. These characteristics, matched to the new engine stays, improve handling precision while at the same time increasing bump-absorption and feeling.

The black-anodised CNC machined triple clamps feature a new top clamp that integrates a rubber damping system that reduces vibrations, therefore increasing comfort. The triple clamps have been meticulously designed to evenly distribute the clamping force on the fork leg, maximizing contact area for optimal sensitivity and minimum friction. Handlebar position adjustability has been maintained for MY16.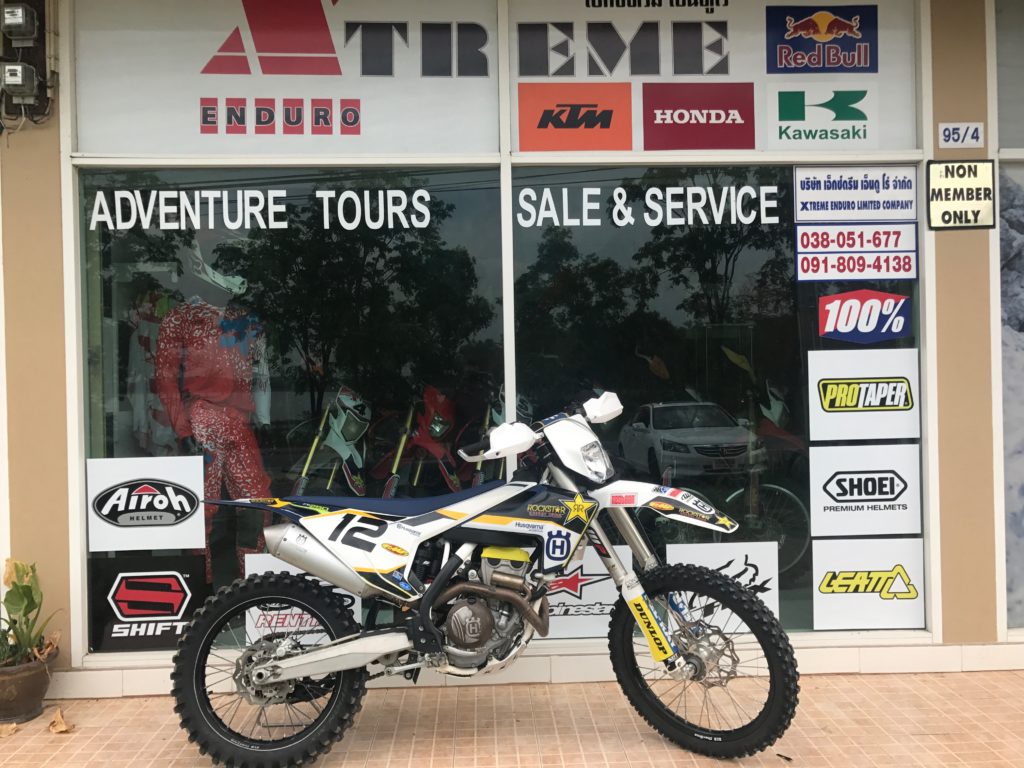 WP's 4CS fork has a revised setup to match the new chassis characteristics of the MY16 generation motocross. As with all 4CS forks by WP, the clicker settings can be easily and quickly adjusted via the dials on the top of the fork tubes. The red dial on the right alters rebound damping, while the white dial on the left is for compression damping.A new, shorter and lighter shock by WP features a larger gas chamber designed to maintain consistent performance during use. New internal components, such as the piston and shock shaft increase setup options. A new clevis design contributes to shortening the overall length by 12 mm, while the stroke is reduced by 3 mm. The shock is completely adjustable for high and low speed compression damping as well as rebound.The rear link has been completely redesigned to match the new rear shock. 148.2 mm pull rods replace the previous link's 145 mm items and, combined with the redesigned bell crank, maintains a similar progressive rate as MY15. Rear wheel travel is now 300 mm and, thanks to the uprated rear suspension behaviour, softer springs can be used.
The use of carbon fibre strips away weight, improving weight distribution and bringing weight closer to the centre of gravity for precise handling. The composition of the material is now 30% carbon fibre and the overall 3-piece construction is 1 kg lighter than the previous subframe for an overall weight of 1.4 kg. It is also more compact as well as being shorter, for greatly improved ergonomics.
No other company offers such Extreme Bikes for Off Road Dirt Bike Riding in Pattaya then Xtreme Enduro Pattaya!
Please contact us at :  info@xtreme-enduro-thailand.com or CALL: 
+669 1809 4138 for more information or to book a half day or full day ride to experience the enduro madness of this machine.